O'Day Sailboats ~ O'Day Sailboat for Sale

O'Day Sailboats Background Information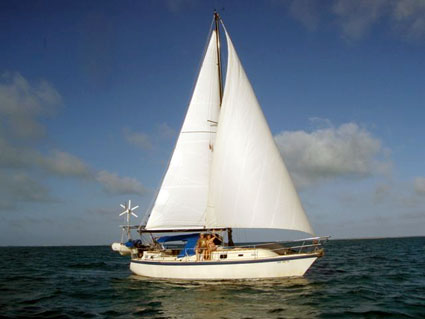 O'Day Sailboats were created by George O'Day with help from designer Uffa Fox in 1956. Together, O'Day and Fox designed a 17' fiberglass daysailer sailboat with a six foot beam, a large cockpit, an enclosed centerboard, an aluminum mast and boom, and the ability to fly a jib and/or a spinnaker. The sailboat could be easily trailered, and when moored it was nearly impossible to capsize, even when filled with rainwater. Since 1957 the boat was built and sold by O'Day's company.

O'Day was no stranger to sailing, in fact, he won an Olympic Gold Medal in yachting in 1960. With all of his achievements and sailboat racing accolades, it's no surprise that his daysailer design remains unchanged today. Cape Cod Shipbuilding Company now builds the legendary 17' DaySailer and has been doing so since 1995.

With a new forward bulkhead and large hatch, the DaySailer can easily be righted, bailed and sailed away in the event that it capsizes. Additionally, it is now offered in a standard version and a racing version.

The standard version includes a mast that hinges on deck to make rigging a breeze. The racing version has a tapered, keel stepped mast with internal halyards and comes equipped with all of the gear necessary for racing.

O'Day Sailboat Resources:
---
O'Day Sailboats For Sale

LOA - Builder
Model
Year
Price
Location
23' O'Day
23
1978
$ 2,500
Orwell, VT
25' O'Day
25
1984
$ 4,300
Lake City, MN
25' O'Day
1978
$ 5,900
Spring Lake, MI
28' O'Day
Sloop
1982
$ 8,000
Portsmouth, RI
28' O'day
28 Sailboat
1980
$ 10,000
Gilford, NH
27' O'Day
272
1987
$ 11,900
28' O'Day
28
1985
$ 12,750
Muskegon, MI
---
O'Day Sailboats Corporate Contact Information
FREE!