Island Gypsy Yachts & Trawlers For Sale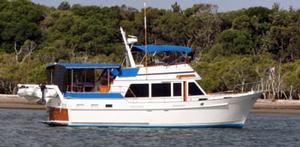 Island Gypsy Yachts Background Information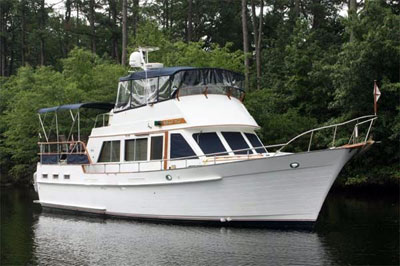 Island Gypsy Yachts and Island Gypsy Trawlers are top quality ocean going trawlers that are designed for serious boating, coastal cruising or live aboard use. Island Gypsy has built a solid reputation for quality and unique design. Their hulls are designed with rough seas, long range cruising and crew comfort in mind.

The "Island Gypsy" name was coined in 1975 when the Halvorsens, an Australian family with a boat building history dating back to 1887, moved to Hong Kong to design, build and market a new range of pleasure boats to be sold worldwide.

Production was moved across the border to Southern mainland China in the early 80's and to this day, over 900 Island Gypsy boats have been built there and exported to almost every corner of the world. Today, the traditional design of an Island Gypsy boat is known as the Eurosedan series, which best represents the classic lines and nautical feelings of Island Gypsy designs.

In 1997 the Solo series was introduced into this fine yacht family as a long range trawler model. Incorporating a combination of rugged, seaworthy design with Island Gypsy's close attention to details, the Solo series meets the needs for longer range boating excursions.

The Gourmet Cruiser, a lobster type yacht that melds the theme of beauty and classic styling with efficient performance was created soon after. The Gourmet Cruiser delivers an experience that goes beyond what just a picnic cruiser has to offer. Both the Solos series and the Gourmet Cruiser have been highly praised and readily welcomed by the boating market.

Today, the Island Gypsy brand is managed by Maxi Marine Group Limited, an "A" Team consisting of world class naval experts and boat builders. Maxi Marine Group is committed to focusing it's efforts into Island Gypsy. With support from world class experts in fiberglass boat manufacturing, Maxi is going the distance to provide reliability, consistent quality and great value in all the products they build. After all, that's what it takes to satisfy the high standards of discerning, demanding boaters today.

Other Island Gypsy Resources:



---
Island Gypsy Yachts For Sale

LOA - Builder
Model
Year
Price
Location
42' Gypsy
42 Houseboat
1976
$ 25,000
Jackson, MS
32' Island Gypsy
32 Sedan
1982
$ 39,902
SW Florida, FL
36' ISLAND GYPSY
Flybridge Trawler
1981
$ 64,900
St. Augustine, FL
36' Island Gypsy
36
1987
$ 71,700
Hixon, TN
32' Island Gypsy
32
1993
$ 77,000
Deep River, CT
36' Island Gypsy K&H
Double Cabin Trawler
1981
$ 84,500
Osprey, FL
44' Island Gypsy
Motor Cruiser, Trades Accepted
1983
$ 99,000
Miami, FL
---
FREE!