FREE!

2014 Lake Havasu Boat Show | Lake Havasu City, Arizona

Show Dates: Friday, April 11, 2014 through Sunday, April 13, 2014
Show Location: Lake Havasu State Park, Windsor 4, Lake Havasu City, Arizona
Show Hours:
Friday: Noon - 6:00 pm
Saturday: 9:00 am - 6:00 pm
Sunday: 9:00 am - 3:00 pm

Admission:
Adults: $3.00
Children (6 and under): Free
Prices are subject to change.

On-site free parking.
---
The Lake Havasu Boat Show is one of the premier boat shows in the entire Southwest and features over 40 brands and models of boats and watercraft including pontoon boats, family runabouts, fishing boats, ski boats, wakeboarding boats, cruisers, deck boats, personal watercrafts and high performance sport boats. Additionally, the show features boat demonstrations, offshore power boat racing and an opportunity to see the world's fastest water skier's competition located at the Lake Havasu State Park, Windsor 4 in Lake Havasu City, Arizona and even if you couldn't ask for more, the parking is free. Food, beverages and a beer garden is on-site. Dogs are allowed but they must be on a leash.
This year's Lake Havasu Boat show is going to be a delight for all the boat lovers who attend. This show has it all. This is one of the major and best boat shows in the southwest. This show will have on display a wide variety of brands, products, and services for boaters. An extensive array of pontoons, fishing boats, family runabouts, ski-boats, wake-boarding boats will be available for inspection. There will also be marine electronics, boating accessories and other marine related products on display.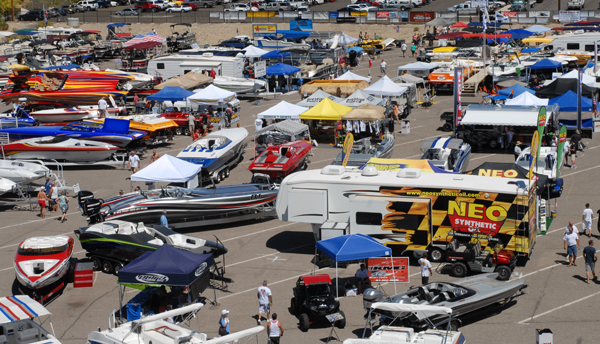 This year's boat show at Lake Havasu City will be bigger and better than ever! Apart from the usual boat show experiences there will be many on-the-water displays. Plan now to attend this once a year Arizona boating happening. Take this opportunity to and examine the best brands of boats and other watercraft. Builders and manufacturers will be showcasing their products along with the accessories and gadgets you need for the coming year on the water. Boat shows are the best place to shop for boats and your boating needs. They allow you to browse and compare the products of different manufactures. This is one show you won't want to miss!
For Additional Information
Visit the Lake Havasu Boat Show Website
E-mail Bob Brown/Media Direction
Call (951) 501-0210
Information about the Lake Havasu Boat Show was obtained from various sources and is thought to be correct. We strongly recommend that you contact the show producer to confirm this information. See the bottom of this page for informaiton on how to contact the show producers.