Show Hours:
Friday: Noon - 9:00 pm
Saturday: 10:00 am - 9:00 pm
Sunday: 11:00 am - 5:00 pm

Admission:
Adults: $9.00
Children (12 and under): FREE with accompanying adult.

Before the show get information on:
---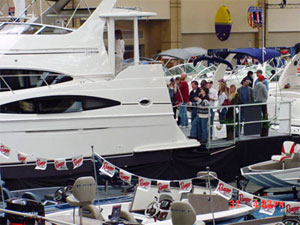 The Boat Show Huntsville, with more than 100,000 square feet of prime display space, consistently features a tremendous selection of boats including fishing boats, pontoon boats, bass boats, deck boats, ski boats, cruisers and personal watercraft. You will also have the opportunity to take advantage of the special boat show prices from a plethora of boat dealers from the North Alabama area. The show also offers several boating seminars and many tackle dealers with fishing gear, bass gear and more at discounted prices
2014 Boat Show Huntsville Highlights:
This Huntsville boat show will bring together many boat dealers from North Alabama and Southern Tennessee to the Von Braun Center for three great days of the area's best boating and fishing show. It will give you the opportunity to peruse all of the exciting new models for 2014 including everything from cruisers to bass boats and pontoons to terrific wake board boats.
For those boaters who would like to bone up on their boating skills, or qualify for Alabama's boat operator license, there will be course available on Saturday from 10 a.m. to 6 p.m. There is a minimal fee for the textbook used in the course.
Additionally, the show will feature several no-charge boating seminars, including a "Life on the Water" seminar for ladies Friday along with a "Trailering Tips" clinic. Sunday will offer a seminar on "Rivers, Locks and Lakes" which will be of interest to those dealing with the locks at Wheeler and Guntersville.
Information about the The Boat Show - Huntsville, Alabama was obtained from various sources and is thought to be correct. We strongly recommend that you contact the show producer to confirm this information. See the bottom of this page for informaiton on how to contact the show producers.