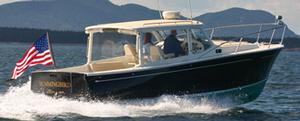 Custom MJM Yachts Searches
MJM Yachts Information


MJM Yachts: In the summer of 2002, Bob Johnstone had ample time on his hands to address the age-old idea of creating the ultimate power boat. Bob had already owned a boat company and a boat and wasn't interested in the prospect of owning either again. Unless a design could be created that was more appealing than what was currently available on the market. A design that was faster, better looking, quieter, more comfortable, more versatile and more fun to drive. In order to design a boat like this, Bob needed to find an experienced designer who has proven he has an eye for a signature look.

The list of potential designers was narrowed down to Doug Zurn who was, for all intents and purposes, credited with designing the prettiest boat under 40 feet at the time which was a Runabout that he built for singer Billy Joel. After much back and forth banter, Doug accepted the challenge that would eventually produce the launch of both a boat and a company. He was soon dubbed the "Z" after designing a spectacular 34 footer with the signature look that Bob had been chasing. The 34Z was then patented to protect it's unique look and eliminate the problem of duplication outside of the company.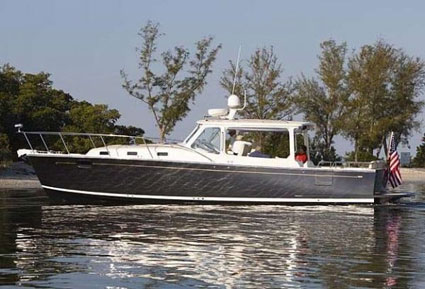 With the 34z ready and waiting, Bob founded MJM Yachts in preparation for production. The last challenge facing Bob was to find a builder who could produce the quality and advanced technology required to build a 34 foot boat that had offshore capabilities of reaching 50 knots with twin 440s and was still light enough to trailer.

Ultimately, the boat's structure was designed to handle those speeds, but the twin engine idea was scrapped in the interest of fuel efficiency. The builder who met all of Bob's high standards was Mark Lindsay and Boston BoatWorks.

Two more models have been added to the line up since the 34z was born in 2003, the 29z and the 40z. Just over 100 boats have been built, collectively, and very few have returned to the market.

Other MJM Yacht Resources:
Click here for MJM Yachts for Sale