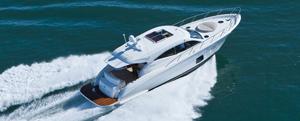 Custom Maritimo Yachts Searches
Maritimo Yachts Information
According to the folks at Maritimo, building one of their yachts is not a job, it's a passion. These vessels, offer a unique flair due to the Australian lifestyle design. Crafted, designed and built on the Australian Gold Cost they offer unmatched engineering for long range cruising and the construction detail to endure the harshest seas.
Maritimo Yachts are the only production boat builder in Australia to hold a 9001 ISO accreditation.
Maritimo has an extensive heritage in offshore racing and that legacy allows Maritimo to deliver world-class technology that will be appreciated by boating aficionados. This advantage is offered with no compromise in luxury. 175mph speeds dictate the need for optimum weight distribution and robust materials along with strong components. Maritimo has been at the forefront of offshore racing in Australia and Internationally. With these hard earned credentials no other manufacturer can match the technology and performance built into every Maritimo.
From their use of cutting edge carpentry and quality furnishings, to their engineering and technology, Maritimo excels with inspired ideas that fulfill the needs a demanding boater.
Click here for Maritimo Yachts for Sale
Maritimo Yachts Corporate Contact Information
Maritimo
15 Waterway Drive
Coomera , Queensland 4209
+61 7 5588 6000