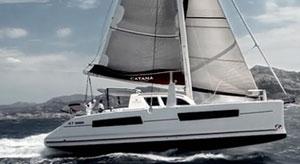 Custom Catana Catamarans Searches
Catana Catamarans Information
Catana Catamarans: More than twenty five years of research and sailing experience has given CATANA an image of unequaled seaworthiness and an outstanding reputation for building a solid, comfortable high performance catamaran. Millions of miles covered by hundreds of their customers, together with the dynamic team at CATANA, ensures they capitalize on every available ounce of knowledge to offer you the very best catamaran for long-distance cruising.

An excellent beam/length ratio and hull rise give a CATANA outstanding stability. To increase the overall stability of the boat without increasing its total width by too much (adding weight on the structure), the hulls are tilted outwards. The elongated waterline stabilizes the boat and reduces pitching. The length of the platform has to be exact: the shorter the platform is, the better the center of gravity becomes which reduces pitching into the sea.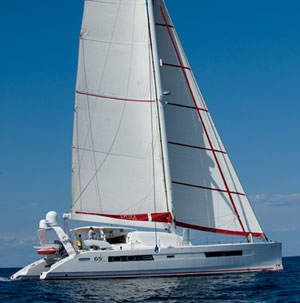 The elongated custom shaped hulls lessen the "rocking chair" effect in heavy seas. The narrower CATANA hull creates less drag than a normal wide-hulled catamaran. As a result, boat speed is higher for the same sail area or equivalent engine power. The aerodynamic shape of the coach-roof reduces drag as well as being more attractive. When lifting the daggerboards, there is no drag so cruising speed is much higher during long passages downwind.

CATANA service is top-notch. They are there to answer any questions prior to ordering about which model is right for you. At the time of delivery they provide you with full documentation for all of the equipment and fittings on your new catamaran. Their technicians will walk you through the use of all on-board equipment and instruments, and their skippers will train you on manuvering at sea and in harbor during your sea trial.

Their after-sales service will follow up with you and your new CATANA no matter where you are in the world. Should you need spare parts they will be efficiently shipped by worldwide express delivery.

CATANA offers a 5 year guarantee on the structure of the boat and materials and fittings are supported by the manufacturer's worldwide one year guarantee.

If you ever decide to sell your catamaran, CATANA will even assist you in that process. That's total customer care from start to finish.

Other Catana Catamaran Resources:



Click here for Catana Catamarans for Sale