Tennessee Boat & Fishing Expo
Show Location:
Farm Bureau Expo Center, Lebanon, Tennessee
Show Dates:
Friday, February 03, 2023 through
Sunday, February 05, 2023
Show Times:
Friday: 12:00 - 8:00 pm
Saturday: 10:00 am - 7:00 pm
Sunday: 12:00 pm - 5:00 pm
Show dates and hours are subject to change.
Admissions:
Adults: $10.00
Seniors (65+) & Military: $5.00
Children (12 and under): FREE
Prices are subject to change.
Lebanon Area MarineSource Members:
The Tennessee Boat & Fishing Expo is the Biggest Fishing Tackle and Boat Show in the State and features a large selection of the latest fishing gear, fishing tackle, boats, boating products, all from the top boat and tackle dealers plus hourly seminars given by the local pros. The show also offers a casting contest and minnow races for the kids so bring the family for a day of fun! The Nashville Fishing and Boat Expo will be held at the Farm Bureau Expo Center in Lebanon.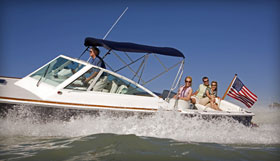 Information about this was obtained from various sources and is thought to be correct. We strongly recommend that you contact the show producer to confirm this information. See the bottom of this page for informaiton on how to contact the show producers.