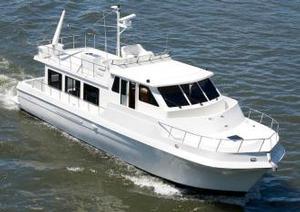 Californian Yachts Information
Californian Yachts are classically designed and built vessels with a boaters values in mind. Skilled craftsmanship and superior materials are the focal point of this American-owned company. Starting in 1988, the Marshalls have constructed over 1000 of these high quality, semi-custom pilothouse yachts. The company's focus for creating this unique and superior yacht remains unchanged.
Californian Yachts range in size from 48' to 55' long range cruisers. They are beautifully built, elegant yachts with all the comforts and luxuries you could ever want on your journey. Their newest model is the Californian 50' Veneti, built to live up to their extraordinary standards, the Veneti master suite is nothing short of expansive - making you feel as though you should be in a yacht at least 10 feet longer. The Veneti is an offshore cruiser that can deliver a solid, dry ride in any conditions.
Since 1988, the Marshalls have built over 1000 high quality, semi-custom pilothouse yachts. Their primary focus for creating a superior vessel remains unchanged. Navigator Yachts, Inc. is recognized world-wide by experienced boaters and industry experts because of our commitment to create the best value in hand-crafted yachts. Navigator and Californian yacht lines are classically designed and built by skilled craftsmanship using quality materials.



Californian Yacht resources for owners and future owners...
Click here for Californian Yachts for Sale