Wellcraft Information
Wellcraft Boats are known worldwide for their first-class performance, high quality and elegant style. From the Fisherman to the Excalibur and every model in between, Wellcraft takes advantage of the latest technologies available in the marine industry.

The Wellcraft Fisherman series was developed by some of the best minds in the business to be tough, rugged and very fishable. Wellcraft knows that there are people who fit fishing into their lives, and there are fisherman who fit life into fishing. The latter are those that the Fisherman series was developed for. The Fisherman series boasts stable, smooth performance and all the tools of the trade are included such as large baitwells, cavernous fish boxes, ample and comfortable seating, convenient rod storage and much more.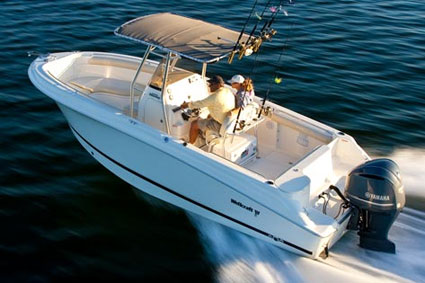 Wellcrafts' Sportsman series is an incredibly versatile design that puts family comfort first. They possess a perfect combination of fishability and amenities for the comfort of family and friends. One step up from the Sportsman is Wellcraft's Coastal series which is designed for luxury fishing and family recreation. The Coastal series provides all the power and fishing tools for the serious fisherman on the back end, and also includes premium appointments, all day amenities and copious amounts of space for the family.

Finally, the Scarab series represents tournament class fishing with legendary Wellcraft performance. The Scarab's Deep-V hull provides superior handling and the center console design is the top choice for fisherman world wide.

Wellcraft Boat Resources:
Click here for Wellcraft for Sale