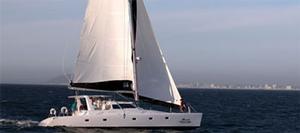 Custom Voyage Yachts Searches
Voyage Yachts Information
Voyage Yachts manufactures a line of luxurious, stylish and elegant bluewater cruising catamarans. These catamarans are built with meticulous attention to the finest details and hold true to the highest international standards. In fact, they have won multiple awards in the industry for their quality and bluewater performance.

The entire range of Voyage yachts is CE certified and recognized for their outstanding quality, flawless performance, ease of handling and pleasantly low maintenance. Voyage's performance-oriented catamarans have earned respect as private cruising boats along with a well-established reputation among charter companies.

The range consists of the Voyage 580 which holds the honor of winning the Multihull of the Year in 2003. It was also voted the "Best Boat" and "Best Catamaran" at the 2010 CYBA charter broker show in the British Virgin Islands.


Another masterpiece in the Voyage catamaran range is the Voyage 520, a successor to the ever popular Voyage 500. The Voyage 520 features an all new "open plan" cockpit and transom. The Voyage 450 which evolved from the original Voyage 440, is well set to carry on it's legacy. The Voyage 440 won the 2002 Boat of the Year award, the Multihull of the Year award and topped it off with an additional Top Ten award. The Voyage DC 45 rounds out the range as a designated day charter catamaran that was designed specifically to meet the requirements for excursions and day sails.

Other Voyage Yacht Resources:
Click here for Voyage Yachts for Sale
Voyage Yachts Corporate Contact Information
Voyage Yachts
PO Box 3377
Annapolis , MD 21403
1 410 956 1880
Fax: 1 410 956 6919
Email Voyage Yachts for information