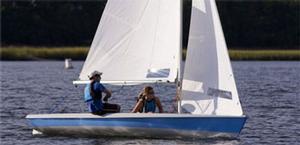 Custom Vanguard Sailboats Searches
Vanguard Sailboats Information
Vanguard Sailboat operates under the philosophy that one-design racing is the purest form of sailboat racing. They have dedicated themselves to producing the finest racing and recreational one-design sailboats in the world. It is their belief that a one-design class requires several key ingredients to be successful. A strong class needs a steady, identically reproduced supply of affordable boats that are well built for longevity.

Vanguard has met these needs by perfecting their manufacturing process to ensure the same quality and build for each and every boat produced. Their investment in equipment, process controls and tooling have resulted in producing the most consistent products in the world. Even with their proven success in attaining their goals, they still continuously seek to improve their plant and manufacturing processes to deliver the highest value possible.


The builds begin with high quality gel coat, resin, and fiberglass which are all used in a carefully controlled manufacturing process. Vanguard knows that if the process is not controlled to near perfection the fiberglass laminates will be variable. If the boats are assembled from variable laminates their weight, stiffness, durability, and performance will vary as well. This would be an unacceptable outcome for a company who's ultimate goal is to build the finest sailboats in the world.

Other Vanguard Sailboat Resources:
Click here for Vanguard Sailboats for Sale