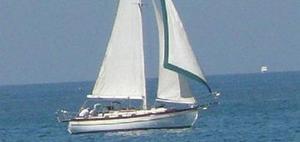 Custom Union Yacht Co. Searches
Union Yacht Co. Information
Union Yacht Co. Ltd. was a shipyard located in Taiwan that was commissioned to build boats for various designers. One of the most notable was a design commissioned from Bob Perry by designer John Edwards to be built by Union Yacht Co. in the early 70's which was operating at that time under the name Union Ship Co.

The design was a 34 foot sailboat that was intended to be built by Union Yacht and marketed in the United States as the Hans Christian 34. Before the design went into production, the decision was made to add two feet to it and build and market it as an HC36. Close to a dozen HC36 sailboats were built by Union in the mid 70's when Edwards had a falling out with the company and attempted to take his design to another builder.


The 36 foot molds for the design were actually owned by Union Yacht Co. at the time and their decision was to maintain ownership and continue to build and market the sailboats as the Union 36. The design continued to be produced and was exported to the United State's west coast through arrangements with several different distributors who would then market it under their own chosen name.

The Union Yacht Co. Union 36 hulls can be identified through their hull number which will begin with either USC (Union Ship Co.) or UYC (Union Yacht Co.). The Union Ship Co. became Union Yacht Co. in April of 1978 and closed it's doors for business in March of 2006.

Other Union Yacht Co. Resources:
Click here for Union Yacht Co. for Sale
Union Yacht Co. Corporate Contact Information
Union Yacht Co. Ltd.
223 Chungking N Rd 4
Taipei , Taiwan