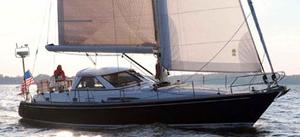 Custom Trintella Yachts Searches
Trintella Yachts Information
Trintella yachts history dates back to 1953 when harbor master Anne Weaver began building wooden Lightning dinghies in his spare time. Through his dinghy building escapade, Anne met Dutch master designer Van de Stadt and the design for his first yacht, Trintel, was born.

The original Trintels I and II were instant hits and from their success, Anne built a family business with a foundation of personal service, sea friendly yachts and high quality builds. In 1961 they paved the way in Europe for the GRP construction methods and the first yacht born from those methods in 1964 marked the beginning of the Trintella name.

The 1980's ushered in a big change for Trintella as the lines for their first aluminum yacht were drawn. The first 40A was completed in 1983 as so marked the beginning of semi-custom yacht building. The 40A featured a stylish doghouse that gave the yacht a very distinctive profile which has become the trademark of today's Trintella range.


Today's Trintella yachts are designed by world renowned designer Ron Holland and are the epitomy of tradition and heritage combined with technology and innovation. They represent a perfect balance of style and enhanced performance.

Other Trintella Yacht Resources:
Click here for Trintella Yachts for Sale