Custom Sunseeker Yachts Searches
Sunseeker Yachts Information
Sunseeker Yachts, which was originally known as Poole Power Boats, started molding and outfitting boats in the early 1970's. While exhibiting their first boats at a boat show, a boat dealer from France made them a proposition - make them all white and add a full-width sunbed across the stern and he would buy them. The suggestion was employed, and in-turn, the boats sold very well. This was the dawning of the points of view that still to this day characterize Sunseeker: listen to the requests of the customer, don't shy away from trying something completely new and different and always explore the possibility of new markets.

Sunseeker has gained a reputation in the industry as a style innovator through their bold and luxurious interior designs which are created byu naval architect and stylist Ken Freivokh. The modern styling that has since been adopted by many other yacht builders was first developed by Sunseeker in the 80's. It was then that they redesigned their boats to incorporate the more modern curvaceous styling that was debuting in the motor industry.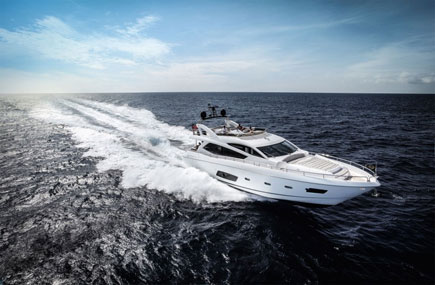 Through their innovative design and distinctive qualities, Sunseekers have evolved from being a brand into becoming a true icon. Many enthusiasts have gone beyond simply aspiring to own a Sunseeker to a level of obsession. Some may even say that to own a Sunseeker is make the ultimate lifestyle statement. Whether you are aspiring or obsessing, Sunseeker will provide you with the best in luxury and performance.

Sunseeker Yacht Resources:
Click here for Sunseeker Yachts for Sale