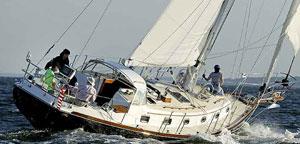 Custom Shannon Sailboats Searches
Shannon Sailboats Information
Walter Shulz moved to Rhode Island in 1975 and began work on his original 38' sailboat design. That 38' boat would be the beginning of what is known today as Shannon Yachts. Walt's intention from the start was to design and build offshore yachts that held up to the highest standards of quality. Shannons have earned that reputation by demonstrating offshore integrity and quality craftsmanship, not only in the states, but internationally as well.

Every major harbor in the world has seen a Shannon Yacht as they have collectively logged over a million miles on the bluewater. The majority of these miles have been sailed by husband and wife teams and they include many transoceanic passages and an impressive list of circumnavigations.

Shannon Yachts has more combined experience in boat building than any other company currently building offshore yachts. Unlike many other companies and builders, there has never been a break in the action at Shannon Yachts. There has been a new boat under construction every week at the Shannon facility since the first 38 footer back in 1975. And each and every one of them have been constructed under Walter Shulz's personal direction and supervision.

To this day, no company that builds semi-custom yachts anywhere in the world can boast passagemaking records, stability in management or an uninterrupted standard of quality that even comes close to that of Shannon Yachts.

Other Shannon Sailboat Resources:
Click here for Shannon Sailboats for Sale