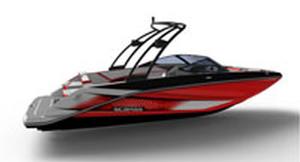 Custom Scarab Jet Boats Searches
Scarab Jet Boats Information
The increasing popularity of Jet boats is due to their many attractive features and Scarab Jet Boats seem to have encompassed them all! A big attraction for parents is that a quick look below the waterline shows the absence of spinning propellers, an appreciated safety factor. Additionally these boats are ridiculously quick off the line, and are a thrill to drive.
Scarab Jet Boats continue to introduce revolutionary and evolutionary boats in their product lineup. All variations of their models offer ample room and plenty of amenities in a high performance package. The cockpits are carefully designed to deliver an abundance of room to move around and offer nicely styled Comfort Ride seating.
Scarab Jet Boats offer cutting edge technology and provide a safe and dependable experience on the water. Whether you're a novice to boating or in the mood to take your on-water experience up a notch or two you owe it to yourself to peruse the Scarab Jet Boat.
Click here for Scarab Jet Boats for Sale