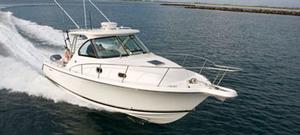 Custom Pursuit Boats Searches
Pursuit Boats Information
8/22/2018 - Malibu Boats, Inc. has entered an agreement with S2 Yachts, Inc. to acquire the assets of Pursuit Boats for $100 million. The transaction is expected to occur in the fourth calendar quarter of 2018.
Pursuit Boats: the history of Pursuit Boats dates back to 1946, when founder Leon Slikkers began building cabin tops for Chris Craft. Four years later, he began building 14' runabouts in his garage after work. In 1954, he registered the name "Slickcraft" and the next year made the bold decision to leave his job at Chris Craft, sell his home and start a small production facility in which to build his Slickcraft boats. The Slickcraft line expanded to include 17' boats by 1961, and all wooden hulls were discontinued to make way for the new fiberglass hull models.

Slickcraft was sold in 1969, but Slikkers stayed on as President until he resigned in 1973 to form S2 Yachts, Inc. and begin manufacturing sailboats. Four years later, the Pursuit series of fishing boats was added to the production line of S2 Yachts. AMF, the company that purchased Slickcraft produced it's last boat in 1980, and in 1983 S2 Yachts purchased the Slickcraft brand name. That same year, they built a new 75,000 sq. ft. plant in Florida to house the building process for Pursuit boats.

In 1986 the company went through a re-organization phase to prepare for it's second generation of growth and seperate dealer franchises were created for each product line. Over the next decade, Pursuit boats continued to expand their product line, and introduce new innovations to the boating industry. They received numerous awards and worldwide recognition for their quality and durability. Sales records were broken nearly every year with each new addition to the product line.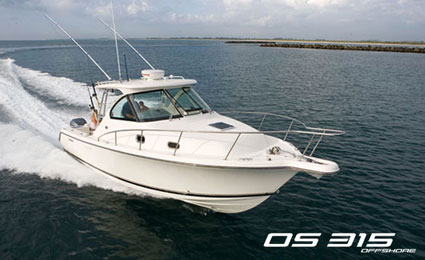 New Pursuit Sport Yacht – April 2012: Pursuit Boats has announced plans to build and deliver a Sport Yacht. The boat will be powered solely by Yamaha Outboards and is scheduled for delivery early in the fall of 2012.
The new Pursuit Sport Yacht will settle in the mid-thirty foot range and feature contemporary styling and up-to-date manufacturing technologies. The new boats will be powered exclusively by Yamaha Outboards. The design will be disclosed to the boating market during the course of the next several months. The new series will be named prior to its physical introduction to consumers in the early fall of 2012.


Other Pursuit Boat Resources:
Click here for Pursuit Boats for Sale
Pursuit Boats Corporate Contact Information
Pursuit Boats
3901 St. Lucie Boulevard
Ft. Pierce , FL 34946
561-465-6006
Fax: (561) 465-6177
Email Pursuit Boats for information