Custom Prout Catamaran - Yachts Searches
Prout Catamaran - Yachts Information
Prout Power Catamarans have become a legend in the boat building industry based on the first rate quality of their catamarans construction, fit and finish. This legendary quality shows not only from the first day, but it carries through the entire lifespan of a Prout Catamaran. Prout builds and delivers these extraordinary catamarans through their factories in the far East at amazingly low prices, prices far lower than any other catamaran maker in the world.

Prout Catamarans is part of Prout International, a company that is known for building some of the finest luxury yachts in the world. Prout is the world's oldest preeminent catamaran builder. Their cutting edge techniques, together with world class fit and finish set Prout apart from their competitors.

Prout Catamarans are built in the far East where labor costs are low in comparison to the rest of the world, but the quality of the workforce is equal or better. With this important competitive edge Prout is able to produce labor intensive, luxury finishes like high quality inlaid woods, natural golden teak decking and attractive granite countertops. Prout can purchase these high-end materials at substantially reduced rates. This gives them the ability to deliver top quality Custom yachts at fantastic prices. The re-sale values of Prout Catamarans are protected within the used market because it is not flooded with cheap charter versions that ultimately drive the values down, even if the particular yacht being sold has never been chartered.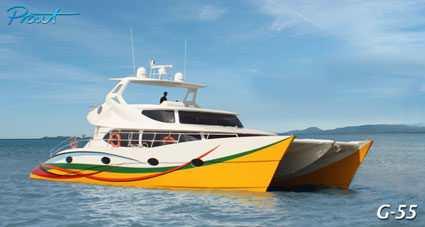 With a Prout catamaran you can be sure that you are getting the highest value for your hard-earned dollar. Furthermore, you can count on exceptionally fast delivery, unmatched customer service, all the latest innovations and rock-solid reliability.

Prout Catamaran resources for owners and soon to be owners:
Click here for Prout Catamaran - Yachts for Sale