ProKat Information
Prokat Boats are built for fishing with stability as their first priority. The fact that the boats are catamarans addresses the stability issue immediately, however there is more to the hull than just a "catamaran" tag.

The design of the hull allows a controlled flow of air between the hulls to create a cushion as the boat planes. That cushion of air produces a soft, smooth ride even in the roughest conditions.

Prokat boats are designed to provide plenty of room and comfort for several fisherman with ample beams and generous seating arrangements. They are constructed with top-quality materials on wood-free hulls and utilize all stainless steel fittings. Available outboard power packages can launch the boat to impressive speeds quickly and cruise comfortably with outstanding fuel efficiency.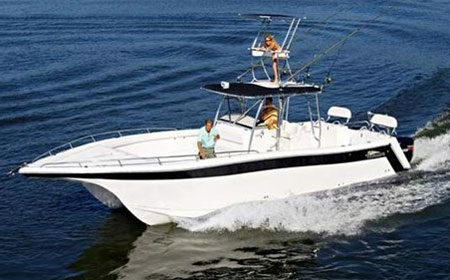 Prokat boats are also fitted with microcomputer ignitions which allow for reliable starts and incredibly smooth low-speed operation. They are generously equipped for serious fisherman with large live wells, insulated fish boxes, a sink, walkthrough transoms and dive ladders.

If you are a serious fisherman looking for a boat that can provide a smooth, dry ride, stability on the water and enough room and ameneties for an all-day outing with your friends, Prokat may have the boat for you.

Click here for ProKat for Sale
ProKat Corporate Contact Information
ProKat