Custom Ocean Alexander Yachts Searches
Ocean Alexander Yachts Information
Ocean Alexander Yachts have been meticulously fabricated in Kaohsiung, Taiwan since 1978. Alexander Marine offers a full range of motoryachts that represent the culmination of unique old-world craftsmanship, advanced modern materials, design and construction techniques. In order to achieve this result, their work in close cooperation with renowned U.S. Naval Architects Ed Monk (head naval architect), Ed Hagemann (hydrodynamic specialist), and Tim Nolan (structural specialist). Alexander Marine is committed to its products and customers from the top down and insists that each vessel posses technical excellence, the highest standards of safety, and superior interior and exterior finishes.

Ocean Alexander Yachts operate with the goal of building each yacht better than the one before. With over 25 years of experience and over 1,500 yachts delivered there is little doubt that they are among the finest luxury motor-yachts available today. Built only to order, Each Ocean Alexander Yacht is strictly built to order and can be completely customized from hull color to furnishings. Though each yacht that is designed and built is unique and different in it's own right, the impeccable standard of workmanship that reflects the yard's outstanding reputation remains the same.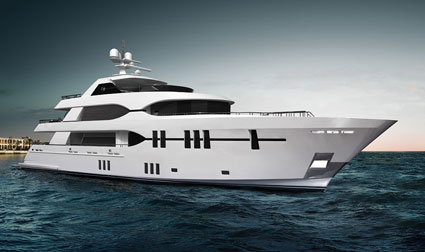 The dedicated workers who build Ocean Alexander Yachts are some of the most talented and capable craftsmen available. All Ocean Alexander interior layouts are designed to present refreshingly light and airy accommodations. A lot of emphasis is placed on open and usable spaces which results in plenty of headroom and generously proportioned cabins that are brightly lit and fitted with every imaginable convenience. Allocation of space is prioritized to provide roomy living areas and galleys, comfortable staterooms, extensive storage and ample outdoor spaces. Lastly, there are the spacious and well-equipped helm stations that are duplicated on the fly bridge where you can feel your own Ocean Alexander Yacht coming to life.

Other Ocean Alexander Yacht Resources:
Click here for Ocean Alexander Yachts for Sale