Nordhavn Information
Nordhavn Yachts: Jim Leishman and Dan Streech developed a friendship while working for a yacht broker in Dana Point, CA back in 1973. They both had a deep love for the sea and each had experience in offshore sailing. When the dealership closed in 1974, Jim and Dan along with a man named Joe Meglen formed a small brokerage. Along with general sales, the three began importing CT boats from Taiwan and soon after brought over Transpacs as well. This is the partnership that would eventually grow into Pacific Asian Enterprises.

Jim, Dan and Joe felt that the quality of the boats being brought over from Taiwan was unacceptable for the American market. With the help of their crew, they personally worked on each boat to bring it up to standard before putting them on the market. This practice eventually led to working closely with the Taiwan builders to make significant improvements in the initial quality of the design and production. As the trend grew PAE seized the opportunity and set out to develop their own line of sailboats whereby they would own the molds and tooling and the building would be completed by a Taiwan builder who would build only for them.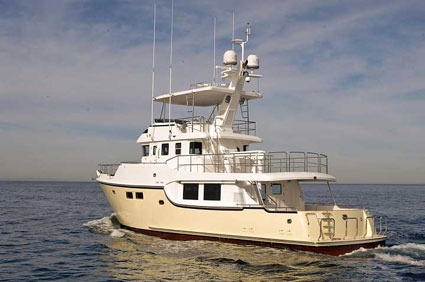 Initially, the sailboat building venture was successful however by 1988 the cruising sailboat market was in decline and a new plan had to be formed. After considering importing and selling powerboats, the idea was presented to take a chance on building a radical new powerboat design to market as their own. Viewed as odd, funny and different by most that it was presented to, PAE finally found a builder that would take the chance on the new concept in Tsai Wan Sheu and South Coast Marine.

The style and look of this odd new design was reminiscent of the North Sea fishing trawlers and so the name Nordhavn (which is Norwegian for North Harbor) was chosen. In 1989 hull #1 of the N46 was completed and shipped. Although the desire to own one of these truly unique vessels did not spread like wildfire through the offshore boating community, it eventually caught on and sales began to improve.

Today Nordavn sells a line of beautiful luxury offshore yachts that range from 40 to 120 feet.

Other Nordhavn Yacht Resources:
Click here for Nordhavn for Sale