Custom Nautors Swan Searches
Nautors Swan Information
Nautor's Swan was founded in 1966 by Pekka Koskenkyla, a Finnish sailing enthusiast who's vision was to construct the first 10m yacht that was capable of both cruising and racing. The key to his vision was to use a fiberglass mold to produce it.

The most important part of this unique concept was to maintain quality. The only way to make the vision a reality was to utilize precise, logistical organization during the production of the series. Nautor's Swan was born of quality and precision and have continued to hold true to those values throughout their history.

The first Swan, the Swan 36, was designed by the legendary Sparkmann & Stephens and was an immediate success. Following on the heels of that success, Sparkmann & Stephens went on to design a total of 15 Swan models for the company over the next 12 years.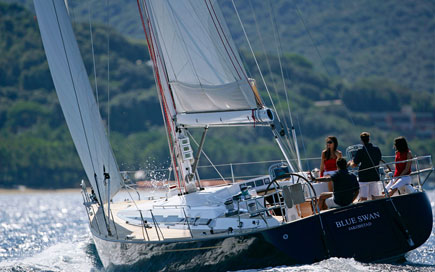 In 1970, the Swan 55 was introduced to the world and launched them into the world of fast, safe, liveable cruising yachts capable of high speed under sail - a sector in which the company is dominant today. The Swan 65 was introduced shortly after and became legendary with it's racing success. It was also the largest fiberglass yacht in the world for almost a decade.

Today Nautor's Swan yachts are considered the ultimate in ocean-going performance and luxury sailing. The company continues to sit atop the ladder for luxury and revolutionary technology and has taken another leap forward with the opening of a new high-tech boat yard.

Other Nautor's Swan Resources:
Click here for Nautors Swan for Sale
Nautors Swan Corporate Contact Information
Nautors Swan
Lungarno delle Grazie ,22
Firenze , Italy 50122
+39 055 240382
Fax: +39 055 288038
Email Nautors Swan for information