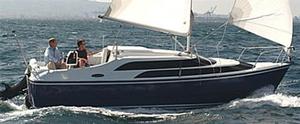 Custom MacGregor Sailboats Searches
MacGregor Sailboats Information
MacGregor Sailboats: Each year for the past 35 years one of the various models of either the MacGregor 25 or the MacGregor 26 have been the best selling cruising-type sailboats worldwide. There are many reasons why MacGregor has achieved such market domination.

The MacGregor 26 claims to be the fastest and best handling of any of the trailerable cruising sailboats. It is easily sailed and easily trailered to your favorite sailing destination. There's no need for a costly mooring as the boat can be stored almost anywhere on its trailer, launched from any boat ramp, and rigged in just a few minutes.

The portability of the MacGregor 26 gives you the advantage of being able to visit great places that water-bound boats will never see, and the expense of in-water storage is non-existent.


With a MacGregor Sailboat you can power at high speed without worrying about compromising sailing performance. You can enjoy the peace and quiet of sailing, or the thrill of powering around at over 22 mph. Unlike any other boat in it's class, it can open up a seemingly endless variety of watersports and activities. Sailing, swimming, fishing, diving, water skiing or just fooling around on the water are all possible with a MacGregor.

The MacGregor 26 is roomy enough to live on either on land or on the water. Sail or power out from your launch site, anchor in a quiet cove, and relax knowing that you are as far away from the world as you want to be. You will never grow tired of shutting off the engine and enjoying the peaceful serenity of moving along gracefully under sail power.

MacGregor has delivered more than 5000 of the 26X and 1800 of the new 26M models. In all they have delivered an impressive total of over 38,000 sailboats. They have been extensively proven over millions of accumulated hours of sailing.

With MacGregor, the price is low, the trailer is your mooring and the wind is free.

Other MacGregor Sailboat Resources:
Click here for MacGregor Sailboats for Sale
MacGregor Sailboats Corporate Contact Information
MacGregor Yacht Corporation
1631 Placentia
Costa Mesa , CA 92627
(949) 642-6830
Fax: (949) 642-5379