Custom LDC Racing Sailboats Searches
LDC Racing Sailboats Information
LDC Sailboats: LDC Sailing are the builders of RS Sailboats. RS Sailboats are designed using the latest developments in construction and rig technology to produce boats that are fun to sail, easy to handle and fast.

With a heritage originating from all-out racing classes, RS Sailboats now builds boats for beginners, families, clubs and schools.

There is quite an extensive range of RS sailboats available. Several different models of all purpose, ten different performance dinghies and skiffs to choose from and many performance keelboat options.

Their all purpose boats were designed to set new standards for recreational sailors, families, clubs and schools. They are easy to handle, a lot of fun to sail, extremely versatile and highly durable. Since launching the all purpose range, RS has gained many new sailors, club and corporate customers. To the company's credit, the RS Feva earned the award for the world's best selling two person sailboat in 05, 06 and 07. The RS Vision earned the award in its sector as well. The RS all purpose range continues to win accolades accross the world to this day.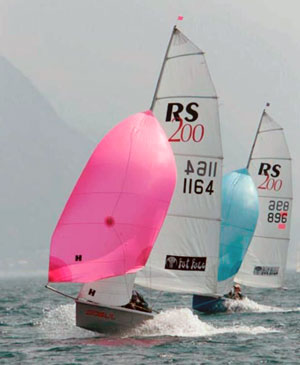 The RS Elite performance keelboats for discerning sailors. Extraordinarily responsive, fast and beautiful, they are built using high tech hull construction, carbon spars, efficient keel bulbs and laminate sails. For dinghy sailors who are moving up they provide the thrills without the consistent practice required to prevent the spills. For yacht sailors moving down, they offer easier crewing, closer racing, far less maintenance and unmatched value.

RS Sailboats have become a phenomenon since LDC Sailing's launch in 1994 and it is now and has always been all about enthusiasm, camaraderie and competition for their sailors.

The RS philosophy has never changed - use the most up-to-date design developments and relevant construction technology to build boats that deliver performance and exciting, one-design competition.

Other LDC Sailboat Resources:
Click here for LDC Racing Sailboats for Sale