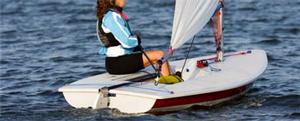 Custom Laser Performance Searches
Laser Performance Information
Laser Sailboats, built by Laser Performance was born when two Canadians, Bruce Kirby and Ian Bruce, met over a couple of drinks in 1969 and discussed some ideas about how they could build the best racing sailboat ever. On a bar napkin they rendered drawings of boats with only one criteria, it had to be car-top transportable. They played with weight displacement, sail area, and the length of the waterline length. The result of that trial and error is an ingenious design formula that revolutionized sailing and produced the world's most popular sailboat – the Laser.

Because they were sailors themselves, Kirby and Bruce were well aware that for a boat design to become popular it would have to both challenge and teach all skill levels. On that premise they decided to keep the hull designs identical, but vary the sail sizes in order to make racing available not only for men, but for smaller adults, women and youth as well. By making every Laser identical and accessible, the sailor won the race according to his or her ability and racing prowess, not the boat's particular design. This wise theory has become an important distinction for Olympic teams.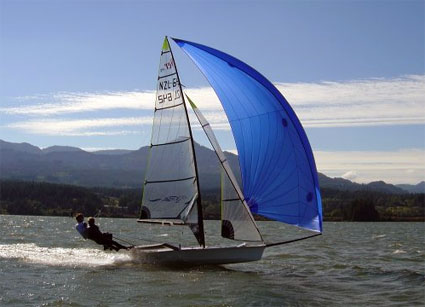 Starting with one version of the Laser, the design eventually evolved into three. The unveiling of the Radial sparked the interest of racing circuit pilots with it's effortless success. It quickly became a popular adult racing class boat that was suitable for smaller adults, women and even youths.

Hot on the heels of the success of the Radial, the 4.7 rig was developed in England in 1989. Once the adolescent sailors discovered they could master the 4.7, like top adult sailors master the Laser, the demand for the boat exploded. The 4.7 was extremely popular in Europe and Asia in the 1990's and later caught on in the American market as well. It is a very popular boat with ambitious youth and Olympic hopefuls in the US.

Other Laser Sailboat Resources:
Click here for Laser Performance for Sale