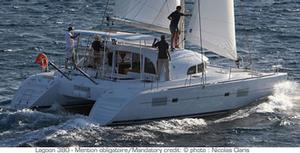 Custom Lagoon Sail Searches
Lagoon Sail Information
Lagoon Sailing Catamarans was developed as an extension of Jeanneau's racing division (Jeanneau Advanced Technologies). Today, Lagoon Catamaran is a holding of the Custom Yacht division of the Beneteau Group, the world's largest recreational boat builder. Since launching the Lagoon 55 in 1987, Lagoon Catamaran has expanded its offerings to include the 47, 57 and 67 - all of which are ocean cruising private yachts. The Lagoons 37 and 42 were designed to meet the desires of the charter market. Although the production of these were limited, they successfully established the elite guidelines and fundamental values that Lagoon is recognized for.
Photos by Nicolas Claris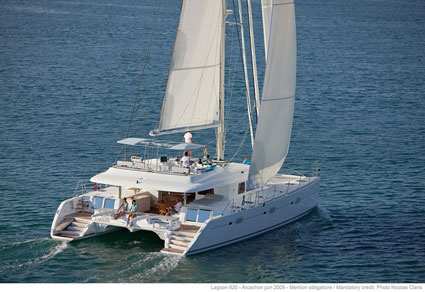 The success of their initial line of catamarans led LAGOON to continue their ideas with the introduction of the LAGOON 380, the LAGOON 570, and now the LAGOON POWER 43, a power catamaran designed by Xavier Faÿ and Philippe Subrero. The result of over 4 years of design and study, the Power 43 combines leading-edge technology with practical simplicity for ease of use and comfortable cruising.

LAGOON has also proven their designs in the realm of custom monohulls and racing multihulls. Their overall list of victories remains unequaled by any other boatbuilder to this day. In addition to all of these impressive achievements and goals, LAGOON has also been involved in a number of special projects such as the construction of the trimarans for the movie Waterworld.

Lagoon places specific emphasis on improving quality, aesthetics, and performance while paying careful attention to the trends set by private customers. With the strength and talent obtained from its diverse experience, LAGOON has an unequaled technical know-how and mastery of composite construction at their disposal, to which the many individual owners, racers, and charter customers can bear witness.

Other Lagoon Sailing Catamaran Resources:
Click here for Lagoon Sail for Sale
Lagoon Sail Corporate Contact Information
Lagoon Catamarans
162, quai de Brazza
33100 Bordeaux , France
33 (0) 557 80 92 80
Fax: 33 (0) 557 80 92 81