Island Packet Yacht Dealers
Custom Island Packet Yacht Searches
Island Packet Yacht Information
Island Packet Yachts and Island Packet Sailboats merge the all-embracing building, sailing and design know-how that has made Island Packet Yachts a world leader. Naval architect Bob Johnson, is Island Packet Yachts founder and CEO. The Island Packet 350 combines the immense boatbuilding know-how with the feedback from owners with millions of miles of sailing and cruising experience around the world. Reflecting these integrated resources, the 350 represents unparalleled excellence and value in a cruising sailboat along with all the qualities that have earned Island Packet Yachts five Boat of the Year awards in the last five years.

The Island Packet 380 represents an even further evolution of the classic design, engineering and construction philosophy that has been proven in over 1600 yachts and countless miles of cruising. Winner of the Overall Boat of the Year Award for Best Value in 1999, the Island Packet 380 represents the coming together of years of extensive hands-on design, building and sailing experience.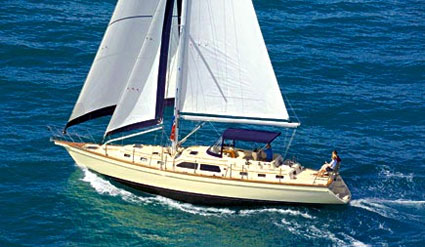 The Island Packet 420 defines the latest generation of Island Packet designs, and embodies a host of proven design and construction features that have evolved over years of boatbuilding experience. Further justifying the genius of it's design, the 420 was the recipient of Cruising World magazine's Boat of the Year award for Best Full Sized Cruiser in 2000, and also earned a place among SAIL magazine's Top Ten New Boats for 2000.

The new Packet Craft 360 Express continues Island Packet's award winning tradition of safe, comfortable, seaworthy yachts and offers owners a new level of service and convenience.

Other Island Packet Resources:
Click here for Island Packet Yacht for Sale