Custom Glacier Bay Cats Searches
Glacier Bay Cats Information
In 1986, Glacier Bay Catamarans began the process of engineering highspeed displacement catamaran hull shapes. The development process included construction of a series of 1/8 scale models with a variation of shapes to determine the best new hull shape that could run at high speeds without planing. A year later, construction began on a fullscale prototype nad 2000 hours later, it was ready for the water. By 1990, the first tooled production model was unvieled to the public as the Glacier Bay 248 at the Seattle International Boat Show.

In 1993, Glacier Bay Cats developed and delivered their first commercial sportfishing boats for an Alaskan charter operation. The charter boats are still in operation to this day averaging about 10000 miles per year. Over the next several years Glacier Bay developed several new models, one of which was the GB 260 Canyon Runner. The Canyon Runner was the first outboard powered boat ever to run 728 miles non stop, at speed, to win the Boating's Bermuda Challenge.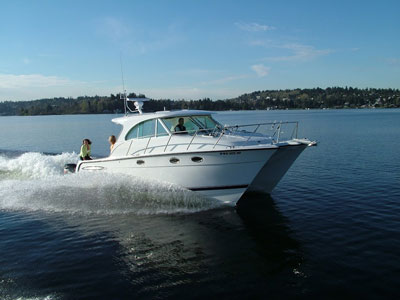 Glacier Bay Catamarans have earned themselves a reputation in the industry by completing countless long journeys of 1000 miles or more quickly and efficiently. There aren't many power boats out there that can complete a 1,378 mile trip in seven days with only one stop to refuel.

Glacier Bay and World Cat have joined forces with the common goal of expanding the catamaran niche in the United States. They are backed by their company's strength, their broad product line, and the thousands of customers who are passionate about their Glacier Bay Catamarans.

Other Glacier Bay Cats Resources:
Click here for Glacier Bay Cats for Sale