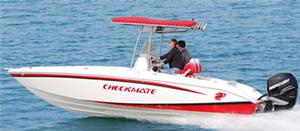 Custom Checkmate Boats Searches
Checkmate Boats Information
Checkmate Boats are all about speed and performance! It's been that way since the day Bill Combs set out to build the finest, fastest, best performing speed boat at his factory in Bucyrus, Ohio in 1963. Bill originally began feeding his racing obsession by modifying boats. Once he realized that it made more sense to design and build his own racing outboard, Checkmate was born. Bill and his sons hit the racing circuit in the late 60's - early 70's with their high performance speed boats in tow. With their great success, Checkmate boats and racing soon became synonymous. Throughout the following decades, Checkmate continued it's domination of the racing circuits.

As their line of racing boats developed, Checkmate entered the performance boating market. It didn't take long for them to be recognized as one of the leading performance boat manufacturers in the country. Staying true to form, Checkmate continues to build quality performance boats using their well-proven methods and styling.

Checkmate's stellar reputation for speed, extraordinary styling and beautiful finishes are the qualities that attracted Checkmate's current President, Doug Smith. A former co-founder and president of BAJA marine, Smith decided to take on a new challenge in 2007 when he was given the opportunity to re-join the performance boating industry and come aboard at Checkmate. Doug successfully inaugurated a new era in Checkmate's history and continues to uphold the impeccable styling, high standards and strong commitment to quality that's been part of Checkmate Boats from the beginning.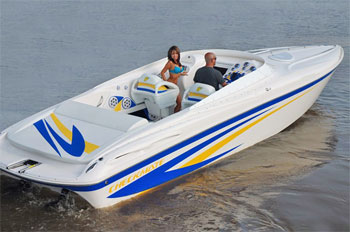 Other Checkmate Boat Resources:



Click here for Checkmate Boats for Sale
Checkmate Boats Corporate Contact Information
Checkmate Marine Inc.
3691 St. Rt. 4 N. - P.O. Box 351
Bucyrus , OH 44820
419-562-3881
Fax: 419-562-0632