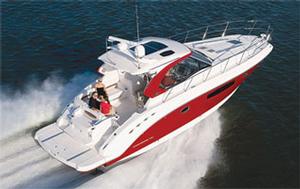 Custom Chaparral Boats Searches
Chaparral Boats Information
Chaparral Boats, originally known as Fiberglass Fabricators, was established in 1965 by William Pegg, also known as "Buck". The company built its first 15' tri-hull and sold it for a retail price of $675! The 15' tri-hull was manufactured until the early 80's and many are still being used. A fire destroyed the Fort Lauderdale Chaparral plant in 1967 but the company rebuilt there. In 1976 Chaparral outgrew its Lauderdale facility and moved to the Nashville, GA plant of the bankrupted Larsen Boat Company. Pegg's involvement with boating started in southern Florida in his early days. After a brief stint in college, Buck went to work with his father at Fiberglass Fabrcators, a manufacturer of custom fiberglass parts. Now, into its fourth decade, Chaparral Boats has continued its growth to a production facility which covers over 425,000 squre feet. Every year Chaparral Boats challenges its design team to produce yet another award-winning series of boats. Chaparral Boats typically include just about everything you'll ever need as standard equipment then lets you customize from an extensive options list that features extras like snap-in carpet, super wide band graphics and automatic fire extinguishing systems to name a few.
1986 saw the purchase of Chaparral Boats by RPC Energy Services of Atlanta, GA. In 2001 RPC divested itself of Marine Products Corporation.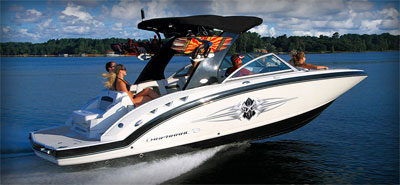 September 2011 – Chaparral introduced its new four boat H20 line aimed primarily at first-time boat buyers. This new line includes new 18 and 19-footers in both Sport and Ski/Fish offerings. Powered exclusively by MerCruiser, the boats will be sold as packages which will include a trailer.
The launch of the H20 Series continues Chaparral's award-winning string of new product introductions. Since 2006 the company has introduced 30 new boats proving Chaparral's commitment to new product innovation.
Still headquartered in Nashville, Georgia, Chaparral Boats Inc. continues to design, manufacture and distribute premium quality stern drive and inboard pleasure boats from 18 to 42 feet in length.
The company also produces Robalo outboard sport fishing boats from 18 to 30 feet in length. Chaparral Boats Inc. and Robalo Boats LLC are subsidiaries of Marine Products Corporation (NYSE: MPX).
Click here for Chaparral Boats for Sale