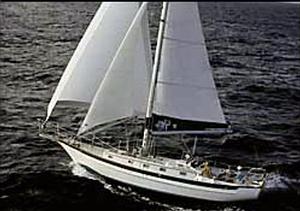 Custom Cabo Rico Sailboats Searches
Cabo Rico Sailboats Information
Cabo Rico sailboats are well known for their graceful beauty and highly respected for their quality construction and sailing ability. Designed by W.I.B. Crealock and Chuck Paine, these blue water cruising sailboats range from 34 to 56 feet. Sea friendly, strong and easy to handle, it's no wonder Cabo Rico sailboats are referred to as the "ultimate bluewater boats".

Cabo Rico's history is unique in the boat building industry. It was founded almost 40 years ago in a corner of the British Leland assembly plant in San Jose, Costa Rica, through a yachtsman's love for boating. This yachtsman, John Schofield OBE, had seen first hand the craftsmanship and work ethic exhibited by Costa Ricans, who are very skilled and well educated. They have proudly lived in a politically stable environment for well over 100 years - Costa Rica is widely considered the Switzerland of the Americas.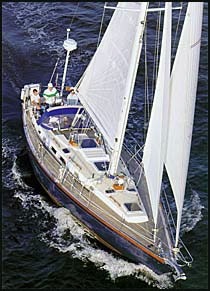 This dedicated and loyal labor force, with an average of over 15 years of experience, is Cabo Rico's greatest strength. They posses an eagerness to constantly improve and learn new techniques and exhibit true pride in their work. They take the time to give attention to each and every detail. The expertise and care they apply to every detail of the building process is their priceless contribution to Cabo's "Passage to Perfection." A "Passage to Perfection" not only describes the philosophy, commitment to quality and unique history of Cabo Rico Custom Yachts, it also describes the end result.

A Cabo Rico sailing yacht, made to your specifications, will take you quickly, safely and comfortably on any journey to the destinations of your dreams, wherever they may be.
Resources for Cabo Rico Sailboat owners and future owners:
Click here for Cabo Rico Sailboats for Sale
Cabo Rico Sailboats Corporate Contact Information
Cabo Rico
4301 N.E. 30th Terrace
Lighthouse Point , FL 33064
954-462-6699
Fax: 954-783-9360
Email Cabo Rico Sailboats for information