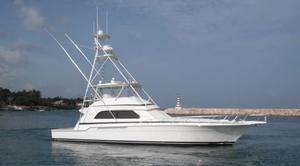 Custom Bertram Boats Searches
Bertram Boats Information
Bertram Boats, a brief history...
In 1960 the Miami to Nassau power boat race was a defining moment in view of the fact that it marked the birth of the Bertram Yacht Company and the introduction of the modern power boat constructed of fiberglass materials along with a deep-vee design and larger stern drive engines. It was also "one hell of a bad day" to be out on the water racing and it was Bertram Boats first competition. The seas reportedly ran to 8 feet with some observers saying 12, and the winds were a solid 30 knots and at times gusting higher. "What happened on that blustery April day in the Gulf Stream and across the clear, rough waters on the Bahaman Bank would forever change power boating," reported the May 1994 issue of Soundings magazine. "The race was won by Bertram's Moppie, a 30-foot wooden prototype designed by C. Raymond Hunt for Miami yacht broker Richard Bertram and named after Bertram's wife. With a constant 24-degree dead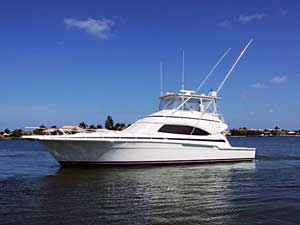 rise running fore and aft, the Bertram Moppie ushered in the era of the modern deep-vee hulls. This Ray Hunt design turned out to have a terrific ability in rough water, and it really set boatbuilding on its ear."
Today, Bertram carries on a 45 year proud tradition by building the finest and highest quality sport fishing boats in the world. and of exceptional note is the Bertram Convertible. All Bertram Yachts ertram boatsare built to exceed their owner's every expectation by using only the finest marine components, materials and construction methods. Bertram Boats deliver consistently higher levels of performance and comfort with every generation of boats they build. They offer superior performance, both in terms of their incredible sea keeping abilities and pure "fish ability" and exceeding your expectations with more comfort and cruising amenities. These advantages coupled with exceptional selection of layouts, options, and engine packages; provide a true alternative to the risks and time frames associated with the custom building of a boat. Bertram Yachts delivers the best in production level consistency and guaranteed performance with exceptional long term value.
2016 hails the introduction of the Bertram 35 which has been designed to take advantage of the essence and the magnificence of the original Bertram 31. This new offering is making available a design that offers a wider beam and a longer hull. This new offering is sure to set the character of future offerings from Bertram.
Resources for Bertram Yacht owners and future owners:
Click here for Bertram Boats for Sale
Bertram Boats Corporate Contact Information
Bertram Yacht
3663 N.W. 21st Street
Miami , FL 33142
(305)633-8011
Fax: 305-635-1388
Email Bertram Boats for information