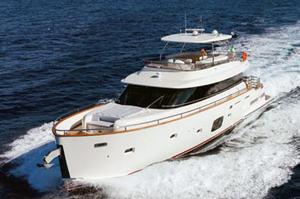 Custom Azimut Yachts Searches
Azimut Yachts Information
The Azimut Yachts history started when the company was founded by Paolo Vitelli in 1969. Since that time Azimut has devoted its efforts to gain the exceptional knowledge to design and assemble fiberglass yachts.
The company's dedication began to pay off in 1974, with the introduction of a complete line of Azimut Yachts from 10 to 16 meters. Their continued development of these highly developed fiberglass yachts led to the introduction of the world's first fiberglass yacht exceeding 30 meters.
1985 saw the purchase of the Benetti shipyards in Viareggio, Italy by Azimut. This acquisition gave them the ability to build steel hulled yachts to over 120 feet in length. The Azimut Yacht has few equals in the world due to its dedication to the research and development of innovative materials. The innovative Azimut Master Guarantee covers boats for five years against osmosis and structural breakdown. This guarantee is in addition to the engine manufacturer's five year guarantee. Azimut's hallmark interiors offer handcrafted precious woods with superior finish and meticulous attention to the smallest details. Style and comfort are just as much a part of an Azimut Yacht as its performance and dependability.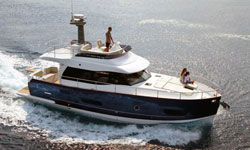 2013: New Models introduced at the Cannes Boat Show for the 2012 / 2013 season include the Magellano 43 and the Azimut 55S. Additionally, the Magellano 43HT, Magellano 76, Azimut 54, Azimut 84 were introduced at the Genoa Boat Show in October of 2012.
2011: As an addendum to the main article above, Azimut is an Italian builder of yachts who is located in Avigliana which is a province in Turin. The company was established in 1969 by Mr. P. Vitelli.
Starting out as a charter company for sailboats, Azimut later became a builder of large luxury yachts. Their first major contract was with the shipyard of Amerglass, which is a Dutch ship-yard that was producing boats manufactured with fiberglass. Azimut's business developed quickly due to their distribution of sailboats, motor-cruisers and eventually motor yachts from different builders such as British Powles, Westerly, and others. The company eventually purchased the assets of Benetti, another luxury yacht building company.
Resources for Azimut Yacht owners and future owners
Click here for Azimut Yachts for Sale
Azimut Yachts Corporate Contact Information
Azimut USA
15621 East Telegraph Drive
Fountain Hills , AZ 85268
(602)837-4307
Fax: (602)837-6409
Email Azimut Yachts for information