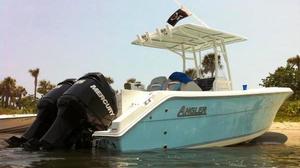 Custom Angler Pro Boats Searches
Angler Pro Boats Information
The Angler Pro Boat is designed and built with fishing in mind, every Angler boat comes with a wealth of development and manufacturing experience backed by a limited lifetime hull warranty. The Angler Boat has been constructed to be totally free of wood which allows you to forget about long-term problems with wood that rots. Reducing the time required for maintenance means that much more time for fishing.
Angler Boats continued policy of research and development guarantees that they will continue to be at the vanguard of developing boat building technology. Angler has operated continuously under the same ownership and management for 35 years. Angler Boat is among the very few foremost independent boat builders remaining.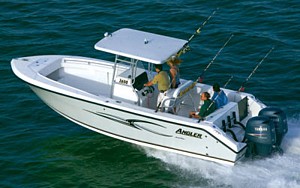 The fact that Angler is independent builder and under private ownership means they are not able to provide outboard engines from Mercury, Yamaha, Evinrude or Suzuki, take your pick!

Furthermore, there are no mass production techniques used at Angler Boats, the companies boats continue to be hand built using the finest hand laid fiberglass matting as an alternative to the sprayed chopped strand that is found in many of the other mass produced boat hulls. Although it takes additional time and is highly labor intensive, hand laid fiberglass makes for a far better and much stronger boat hull. This is the philosophy that makes an Angler Boat an Angler Boat! An Angler is a hand built boat at a mass produced boat price.
Visit the Angler Facebook Page
Click here for Angler Pro Boats for Sale