Custom Alden Yachts Searches
Alden Yachts Information
For Alden Sailboats click here.
Alden Yachts , often, and many times referred to as "America's Boatbuilder," is located in Portsmouth, Rhode Island. Alden Yacht is a builder of semi-custom sailing and motoryachts. Alden power yachts are currently sized between 40 and 60 feet. Yacht building is only one aspect of this full service provider, which also offers yacht brokerage, yacht charters, and a variety of repair and yard services.

Alden Yachts has recently introduced the new Brenton Reef 40 yacht series. The Brenton Reef 40 is available in Open, Hardtop Express, Saloon Express and Flybridge Express models, there are both one stateroom and two stateroom arrangement plans available. The owners of Alden Yachts powerboats are very specific in their desires: in a power yacht they demand Alden Yachts styling, Alden Yachts craftsmanship, Alden Yachts value, and Alden Yachts customer service. In short, a powerboat built to The Alden Yachts Standard of Excellence. The Alden Yachts powerboat pedigree is founded in decades of bluewater yacht design and construction. Our high-performance planing motor yachts have set a new standard for quality, value, and workmanship. Classic styling combines with state-of-the-art performance technology to create a masterpiece of grace, power, and motoring comfort. Alden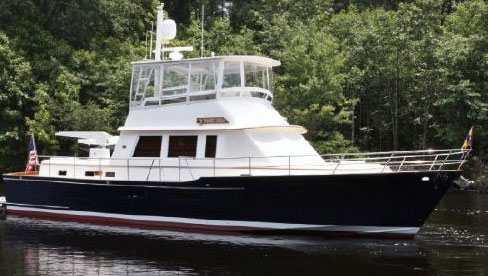 Yachts 49 to 56 foot powerboats feature C. Raymond Hunt deep-V hull designs to provide unmatched offshore sea-keeping performance; hulls that allow the owner to power through chop and sea conditions that keep other boats at the dock. Alden Yachts 40 to 48 foot powerboats, featuring the Alden Yachts Design Groups engineering, provides a modified deep-V hull form with a fine V-entry to provide a soft ride ride and flattened after sections to enhance performance. Performance and power, however, are not achieved by sacrificing comfort and quiet. Alden Yachts exclusive sound control technology must be experienced to be believed. At the dock, you'll barely notice that the powerful twin diesels are running, and at speed, you'll be able to carry on a civilized conversation in the luxuriously appointed saloon. All Alden Yachts powerboats, 40 to 56 feet in length in Express, Motor Yacht, or Pilot House designs, are semi-custom yachts built to meet each owner's individual requirements. Only the finest materials and gear are used in the creation of these yachts, and each is handcrafted to the highest level of finish and craftsmanship. For discriminating yachtsmen who demand the very best, an AldenYachts powerboat is the only choice.
Click here for Alden Yachts for Sale
Alden Yachts Corporate Contact Information
Alden Yachts
99 Poppasquash Road
Bristol , RI 02809
(401) 683-4200
Fax: (401) 683-3668
Email Alden Yachts for information