Saltwater Fishing Expo
Show Location:
New Jersey Convention and Exposition Center, Edison, New Jersey
Show Dates:
Friday, March 18, 2022 through
Sunday, March 20, 2022
Show Times:
Friday: 12:00 pm - 8:00 pm
Saturday: 10:00 am - 6:00 pm
Sunday: 10:00 am - 5:00 pm
Show dates and hours are subject to change.
Admissions:
Box office only accepts cash and will close (1) one hour prior to show closing each day.
Adults: $13.00
Children (6-11): $3.00
Children (5 and under): Free when accompanied by an adult.
All children ages 11 and under will receive free admission on Sunday, March 15
Prices are subject to change.
Edison Area MarineSource Members:
The Saltwater Fishing Expo in Somerset, NJ features the latest in saltwater fishing boats, boat motors, kayaks, fishing gear, boating equipment, fishing tackle, light tackle to big-game tackle from local retailers at special show prices, book a fishing trip with a local captain, hundreds of exhibitors with everything you need associated with saltwater sportfishing inshore to offshore. The show has special activities and seminars given by the experts you don't want to miss it! The expo is located at the New Jersey Convention and Exposition Center in Edison, New Jersey.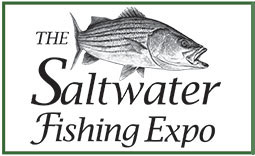 Information about this was obtained from various sources and is thought to be correct. We strongly recommend that you contact the show producer to confirm this information. See the bottom of this page for informaiton on how to contact the show producers.