Tampa Boat Show/St. Petersburg Power Boat Show
Show Location:
Duke Energy Center for the Arts Mahaffey Theater - Yacht Basin, St. Petersburg, Florida
Show Dates:
Thursday, January 20, 2022 through
Sunday, January 23, 2022
Show Times:
TBA
Show dates and hours are subject to change.
Admissions:
Adults (13 and up): $TBA
Children (12 and under): FREE! (when accompanied with an adult).
Box office closes one-half hour before show close.
Prices are subject to change.
St. Petersburg Area MarineSource Members:
The Tampa Boat Show is Tampa's grandest and longest running boat show and arguably the best place to see and purchase boats, boating gear and accessories! From fishing to cruising to skiing there are boats and yachts for every lifestyle, activity and pocketbook. Explore everything from luxury yachts to personal watercraft displayed on land and in the water at the Tampa Convention Center. There are booths showcasing the latest in engines, marine electronics, and marine accessories plus fishing gear, also. At the Tampa Boat Show there is no better time to purchase! This 3-day event is your once-a-year opportunity to compare makes and models, and an opportunity to purchase boating gear and all of the latest accessories all at one time!
Come to the Tampa Boat Show and shop till you drop! As you move around the boats, displays and booths you'll find tons of boating fun for the entire family. Get pointers and tips from the area's top fishermen at the daily seminars. At the Green Boating Zone you should check out the latest in eco-friendly boating. There truly is something for everyone at the Tampa Boat Show!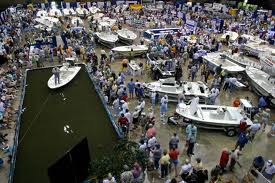 Take advantage of a variety of interactive, experiential and educational on-the-water programs to help you get started in boating or improve your boating skills.
2013 Highlights:
~ Meet Johnathan Hillstrand from Discovery Channel's Deadliest Catch
~ Visit the Be a Diver Pool
~ Hands-on Skills Training by Discover Boating
~ See the Miss GEICO Racing Boat
~ Free Power Boat Rides
2013 seminar speakers include:
~Capt. Sergio Atanes
~Capt. Frank Bourgeois
~Capt. Dave Pomerleau
~Capt. Dave Walker
~Capt. Steven Soults
Information about this was obtained from various sources and is thought to be correct. We strongly recommend that you contact the show producer to confirm this information. See the bottom of this page for informaiton on how to contact the show producers.