Sarasota Suncoast Boat Show
Show Location:
Marina Jack's, #2 Marina Plaza, Sarasota, Florida
Show Dates:
Friday, April 22, 2022 through
Sunday, April 24, 2022
Show Times:
Friday: 10:00 am - 6:00 pm
Saturday: 10:00 am - 6:00 pm
Sunday: 10:00 am - 5:00 pm
Show dates and hours are subject to change.
Admissions:
Adults: $16
Children (15 and under): FREE
Prices are subject to change.
MarineSource Members In Attendance:
(click on broker name to view their available listings)
Sarasota Area MarineSource Members:
The Suncoast Boat Show at Marina Jack's in Sarasota, FL will have an enormous number of boat and yacht companies on hand displaying their boats. This year's offerings, from the Gulf coast's leading boat dealers, will include everything from fishing boats to high performance racing sailboats, cruisers, runabouts, motor yachts, super yachts and schooners. The show will also have marine accessories, boating products and marine electronics on display. Enjoy the great outdoors while pricing and comparing hundreds of boats from the Gulf coast's leading boat dealers at the all new Suncoast Boat Show in Downtown Sarasota. The show will be held at Marina Jack's, #2 Marina Plaza in Sarasota, Florida. There will be food and beverages on site and plenty of downtown parking. There is no better time than right now to buy a boat!
The Suncoast Boat Show once again promises to bring a variety toys for boaters and will have a plethora of boat and yacht builders represented. Year after year, there has never been a better place to buy boats than a boat show simply because you get a chance to compare the price and features of many boats and different builders and choose the one that's perfect for you. The Suncoast Boat Show in Sarasota, Florida will feature the leading boat dealers and yacht brokers of the Gulf Coast. Not just yachts and boats but here you will also find all the marine electronics and accessories you could ask for. Name it and you will find it here. There will be food and beverages aplenty to satisfy every appetite.
If you have a hankering for fishing boats, competition sailboats, cruisers, yachts, runabouts,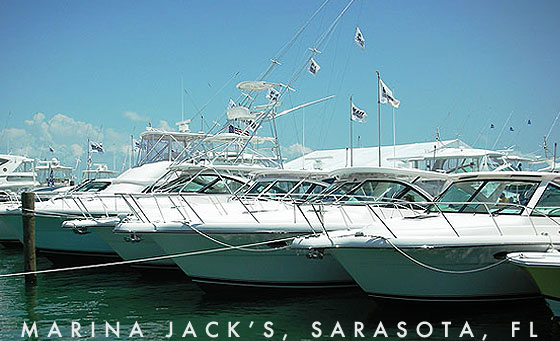 schooners or even a super yacht, this is the place to be. So if you are planning to buy a new boat then this is the time. From boats and yachts to electronics, marine gadgets, accessories and all the other boating products you might fancy will be available here. And the best part about the boating show is that you don't have to choose from a specific brand or so, you can compare the prices and features of the products of all the top brands and then make the best out of the deal. The show will be held at Marina Jacks, in Sarasota Florida.
So don't think about it, if water is your passion then this year's Sarasota Boat Show will prove to be heaven for you.
Information about this was obtained from various sources and is thought to be correct. We strongly recommend that you contact the show producer to confirm this information. See the bottom of this page for informaiton on how to contact the show producers.