Sacramento Boat Show
Show Location:
Cal Expo, Sacramento, California
Show Dates:
Thursday, March 11, 2021 through
Sunday, March 14, 2021
Show Times:
Thursday & Friday: 11:00 am - 8:00 pm
Saturday: 10:00 am - 8:00 pm
Sunday: 10:00 am - 6:00 pm

Show dates and hours are subject to change.
Admissions:
Adults: $12.00
Children (under 12): Free
Uniformed Active Military: Free
Uniformed fire and law-enforcement personnel: Free
Prices are subject to change.
Sacramento Area MarineSource Members:
The Sacramento Boat Show is the largest boat show in the Central Valley and features hundreds of new boats 8 to 50 feet including fishing boats, ski boats, pontoons, saltwater fishing boats and personal watercraft. The show will also have educational fishing seminars, boating products, fishing gear, trailers and the off-road extravaganza with ATVs, off-road motorcycles, snowmobiles, toy haulers, sport trailers, travel trailers and tent trailers. The location for the boat show is at the Cal Expo in Sacramento, California.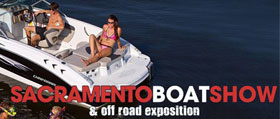 Information about this was obtained from various sources and is thought to be correct. We strongly recommend that you contact the show producer to confirm this information. See the bottom of this page for informaiton on how to contact the show producers.