Norwalk Boat Show
Show Location:
Norwalk Cove Marina, Norwalk, Connecticut
Show Dates:
Thursday, September 24, 2020 through
Sunday, September 27, 2020
Show Times:
Thursday - Saturday: 10:00 am - 7:00 pm
Sunday: 10:00 am - 5:00 pm
Show dates and hours are subject to change.
Admissions:
Adults: $15.00
Children (12 and under): FREE (when accompanied by an adult.)
$5 Super Thursday Promo - Thursday ONLY!
Prices are subject to change.
MarineSource Members In Attendance:
(click on broker name to view their available listings)
The Norwalk International In-Water Boat Show features a ton of new boats and dealers ready to offer the best price plus every boating accessory and marine product you need. Besides boats and boating equipment, the show offers you an opportunity to get tips on various topics from industry professionals at free informative seminars that include subjects from electronic navigation to boating and fishing.
For those that plan on attending the show by boat can anchor in Norwalk Harbor where you can hail the water taxi on VHF 72 for a ride to the docks.
The show will be held in East Norwalk close to the mouth of Norwalk's harbor at the Norwalk Cove Marina which is the largest area marina. Gas and Diesel fuel will be available at the fuel dock along with more than 400 slips with accommodations for yachts up to 120 feet.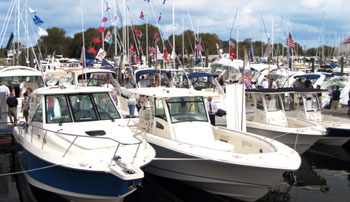 2013 Norwalk Boat Show Highlights:
~ Meet Johnathan Hillstrand co-captain of the Time Bandit featured on Disovery Channel's Deadliest Catch.
~ PaddlePalooza stand-up paddling & kayaking classes.
~ Try power boating with a free ride on Long Island Sound.
~ Try sailing with a free ride on Long Island Sound.
~ Fred's Shed Interactive Learning Center
~ Learn from experts at the Discover Boating Hands-on Skills Training.
~ One hour power boating workshops and much, much more…
Information about this was obtained from various sources and is thought to be correct. We strongly recommend that you contact the show producer to confirm this information. See the bottom of this page for informaiton on how to contact the show producers.