New Jersey Boat Sale & Expo
Show Location:
New Jersey Convention & Exposition Center, Edison, New Jersey
Show Dates:
Thursday, February 18, 2021 through
Sunday, February 21, 2021
Show Times:
Thursday: Noon - 8:00 pm
Friday: Noon - 8:00 pm
Saturday: 10:00 am - 8:00 pm
Sunday: 10:00 am - 5:00 pm
Show dates and hours are subject to change.
Admissions:
Adults: $10.00
Children (16 & under): Free
Prices are subject to change.
Edison Area MarineSource Members:
The New Jersey Boat Sale and Expo is brought to you by the Marine Trades Association of New Jersey and features hundreds of boats on sale at affordable prices from the top dealers in the state. The show also features a huge boater's market with all the boating accessories and boating services you need, plus activities for the kids and for the adults boating and fishing seminars. The New Jersey Boat Sale is located at the New Jersey Convention and Exposition Center in Edison, New Jersey and parking is free.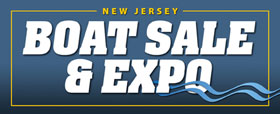 Information about this was obtained from various sources and is thought to be correct. We strongly recommend that you contact the show producer to confirm this information. See the bottom of this page for informaiton on how to contact the show producers.