Lake of the Ozarkes September Boat Show , Sunrise Beach Missouri
The Lake of the Ozarks September In-Water Boat Show will feature all the latest top of the line boats brought to you by the Lake of the Ozarks Marine Dealers Association in addition to boating and marine vendors displaying marine accessories, docks, personal watercraft, marine electronics and boating equipment. The boat show will be held at Captain Ron's which is located at 34 1/2 mile marker in Sunrise Beach, Missouri.

If it's not summer unless you're on the lake in a boat then this is the show for you so it's time to enjoy the September Lake of the Ozarks Boat Show and the show is right around the corner. The show is an in-water boat show which will be taking place at Captain Ron's situated at Sunrise Beach, Missouri. This is an outstanding event which will be featuring the area's top boat dealers and manufacturers. The event is hosted by the Lake of the Ozarks Marine Dealers Association (LOMDA).

The show is quite popular among various builders of boats as well as dealers, who will be displaying the best on the water. This is also a great show for water sport lovers to visit. If you think you know all about boats it may be time to think again! The show will host the newest and best of boats from small boats to yachts. The huge collection of boats displayed may just leave you in awe.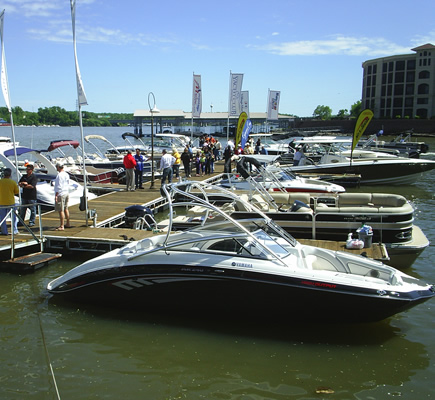 There will be top quality marine accessories offered by vendors as part of the event. You can satisfy you boating urges by going through the display of the personal boating and watercraft. A grand event like this invariably allows you to peruse a variety of marine products and choose the ones that best fit your needs.

The Lake of the Ozarks Boat Show will surely be a great opportunity for you to spend time with your family at a beautiful on the water location.
Information about this was obtained from various sources and is thought to be correct. We strongly recommend that you contact the show producer to confirm this information. See the bottom of this page for informaiton on how to contact the show producers.