The Annual Gateway Lets Go Fishing Show, at the Gateway Center, features a large selection of new and several pre-owned aluminum and fiberglass fishing boats, motors, a wide variety of boating products and fishing tackle, rods and reels, and other fishing related products and services. The show has something for everyone including many informative seminars where the professionals and experts share their tips with you. All seminars and attractions are free with your ticket. The show is at the Gateway Convention Center and parking is free.
The Let's Go Fishing Show is a show dedicated solely to anglers and for those folks who love to fish from Central Illinois, Southern Illinois and Missouri.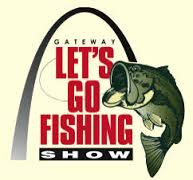 Visitors to the show will have access to a virtual "fishing tackle super-store" along with the ability to attend seminars and see exhibits of interest. Those attending will also find fishing and boating accessories such as trolling motors, depth finders and other fishing related accessories and services.
Let's Go Fishing Show provides visitors with the opportunity to peruse a large assortment of fishing boats. You have an opportunity to save big dollars on the top names in aluminum and fiberglass models. Boat dealers will be offering some closeout specials along with the possibility of some really special deals on pre-owned boats.
The 2013 show highlighted Pro Bass Fishermen:
• Paul Elias
• Alton Jones
• Brent Ehrler

Information about the Let's Go Fishing Show was obtained from various sources and is thought to be correct. We strongly recommend that you contact the show producer to confirm this information. See the bottom of this page for informaiton on how to contact the show producers.