Genoa Boat Show
Show Location:
IL Salone Nautico, Genoa, Italy
Show Dates:
Thursday, October 01, 2020 through
Tuesday, October 06, 2020
Show Times:
Open Daily from 10:00 am - 6:30 pm
Show dates and hours are subject to change.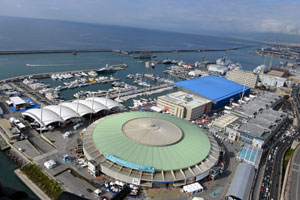 The producers of the Genoa International Boat Show are looking forward to welcoming you to Fiera di Genova for the next presentation of their ever evolving yacht and boat show. The show consistently presents hundreds of exhibitors and over 1,000 boats, large and small, on display including powerboats and sailboats from the smallest of rowing boats all the way to maxi-yachts. You will be able to take advantage of the venue to meet with boat and marine vendors across the vast 300-thousand square meter exhibition area both onshore and in-water.
Highlights for the 2013 Genoa Boat Show:
~ More than 1,000 boats shall be on display this year at the Genoa show, of which more than 100 are exhibitors' new entries. Various boat types will be displayed including powerboats and sailboats ranging from tenders to maxi yachts with boat lengths ranging from 1.85 meter to 80 meter.
~ Boats on display will include, but not be limited to, the 80-metre "129 Chopi Chopi" superyacht, built by CRN. The smallest craft is the "Roll185" rubber dinghy, from the Arimar boatyard (just 1.85 metres in length).
~ For the entire month of October, you boat show ticket will entitle you to discounts and special considerations when dining out, shopping and at various exhibitions, museums and galleries and area events., Cardholders who wish to return to Genoa over the Christmas period (1-29 December) will be entitled to a 10-15% reduction on accommodation prices in the hotels honoring the Genoa Boat show agreement and offering special conditions.
~ The 2013 Genoa Boat Show welcomes boatyard exhibitors, Baglietto, Sessa Marine and Fairline, along with top builders Azimut, Ferretti, Sanlorenzo, Sunseeker, Groupe Bénéteau, Fipa Group and more...
Information about this was obtained from various sources and is thought to be correct. We strongly recommend that you contact the show producer to confirm this information. See the bottom of this page for informaiton on how to contact the show producers.