Charlotte Antique and Classic Boat Show
Show Location:
Trump National Golf Club, Mooresville, North Carolina
Show Dates:
Saturday, August 25, 2018 through
Saturday, August 25, 2018
Show Times:
Saturday: 10:00 am - 3:00 pm
Admissions:
Admission is FREE!
Mooresville Area MarineSource Members:
It's that time once again to see some beautiful classic boats at the annual Charlotte Antique and Classic Boat Show. If you are fascinated by the design of old classic boats or your passion is restoring antique boats then this is the show you do not want to miss. This event features beautifully restored wooden hulled vintage boats on public display that will be judged. An award banquet for the winners will be held Saturday evening. Starting at noon on Saturday, the show will feature the Ladies and Gentlemen "Start Your Engines" classic and antique boat parade which is always a fun event for the entire family.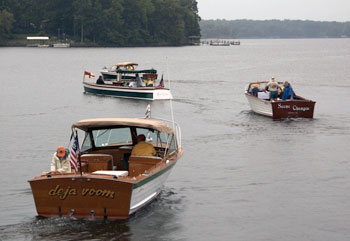 At the show you will have the opportunity to view something truly unique boats. In the past, the show afforded visitors the opportunity to view a classic wooden sailboat, a Luder 16 full keel sloop built in 1948. The shear lines and the silhouette along with a mahogany hull make this gorgeous sailboat alone a reason to attend. Who knows what pretty little vintage piece might show up this year!
Information about this was obtained from various sources and is thought to be correct. We strongly recommend that you contact the show producer to confirm this information. See the bottom of this page for informaiton on how to contact the show producers.