Cannes Boat and Yacht Show
Show Location:
Old Port of Cannes (Vieux Port) & Port Pierre Canto, Marseille, France
Show Dates:
Tuesday, September 06, 2022 through
Sunday, September 11, 2022
Show Times:
Tuesday - Thursday: 10:00 am - 7:00 pm
Friday: 10:00 am - 10:00 pm
Saturday: 10:00 am - 7:00 pm
Sunday: 10:00 am - 6:00 pm
Show dates and hours are subject to change.
Admissions:
Adults: € TBA
Children (12 and under): FREE
Prices are subject to change.
MarineSource Members In Attendance:
(click on broker name to view their available listings)
The Annual Cannes International Boat and Yacht Show is Europe's largest in water boat and yacht show featuring over five hundred new and pre-owned yachts. The Vieux Port and Port Pierre Canto are two magnificent French Riviera sites perfect for hosting the show located at both ends of the famous Croisette in Cannes. The show brings together the key players in international luxury yachting and pleasure boating, whether they are exhibitors showcasing new vessels and services, yacht owners or future buyers eager to take advantage of this unique opportunity offered by this show.
The Vieux Port has a wide variety of new model boats each year on display in water including motorboats and sailboats from the top international shipyards. In the heart of the Vieux Port is the section for Multihulls a must event for all who love multihull cabin cruisers both motor and sail ranging from 10 to 50 meters. On land there will be many exhibitors with more boats, boating services and equipment for the sophisticated yacht.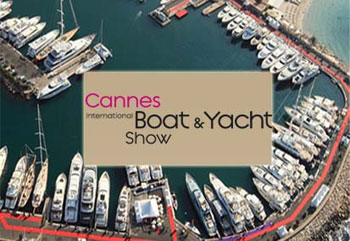 The Port Pierre Canto is the Brokerage sector with at least fifty or more each year of the finest pre-owned yachts from the top European and American brokers. On land hundreds of exhibitors from all over the world will be offering boating and marine services including financing and insurance, charters, refitting yards, boating accessories, marine products and parts from manufacturers in the equipment and services sector.
Two sheltered courtesy shuttles will be available to the public that will run every 15 minutes to take visitors between the Port Pierre Canto and the Vieux Port. This six day event is a leading in water show on the international boating scene and it will be held at the Vieux Port and the Port Pierre Canto in the Cannes bay a beautiful setting of the French Riviera.
Information about this was obtained from various sources and is thought to be correct. We strongly recommend that you contact the show producer to confirm this information. See the bottom of this page for informaiton on how to contact the show producers.