The Boat Show Huntsville, with more than 100,000 square feet of prime display space, consistently features a tremendous selection of boats including fishing boats, pontoon boats, bass boats, deck boats, ski boats, cruisers and personal watercraft. You will also have the opportunity to take advantage of the special boat show prices from a plethora of boat dealers from the North Alabama area. The show also offers several boating seminars and many tackle dealers with fishing gear, bass gear and more at discounted prices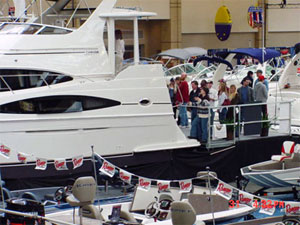 The Boat Show Huntsville Highlights:
This Huntsville boat show will bring together many boat dealers from North Alabama and Southern Tennessee to the Von Braun Center for three great days of the area's best boating and fishing show. It will give you the opportunity to peruse all of the exciting new models including everything from cruisers to bass boats and pontoons to terrific wake board boats.
Giant Fishing Tackle sale all three days with daily specials.
Information about this was obtained from various sources and is thought to be correct. We strongly recommend that you contact the show producer to confirm this information. See the bottom of this page for informaiton on how to contact the show producers.