Bay Harbor In-Water Boat Show **CANCELLED**
Show Location:
Bay Harbor Lake Marina, Bay Harbor, Michigan
Show Dates:
Friday, June 19, 2020 through
Sunday, June 21, 2020
Show Times:
Friday: 12:00 - 8:00 pm
Saturday: 10:00 am - 8:00 pm
Sunday: 10:00 am - 3:00 pm
Show dates and hours are subject to change.
Admissions:
Free!
MarineSource Members In Attendance:
(click on broker name to view their available listings)
***CANCELLED***
The Annual Bay Harbor In-Water Boat Show offers an extensive in-water display of personal watercrafts, fishing boat, pontoon boats all the way to luxury yachts. On shore you can peruse maritime art, fishing boats, paddle boats, boat hoists, boating accessories and marine related electronics, safety equipment and accessories. The show is being held at the beautiful Bay Harbor Lake Marina.
The Bay Harbor Lake Marina, in association with the MBIA (Michigan Boating Industries Association), is enthusiastically hosting this year's Bay Harbor In-Water Boat Show at the Bay Harbor Lake Marina. Bay Harbor show has brought forth some exciting new ideas and ways to enlarge this year's show in an effort to enhance the boater's experience.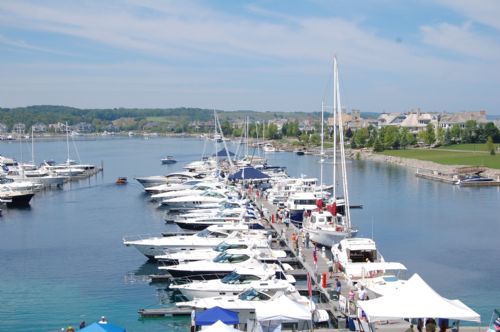 Attendees can anticipate seeing an extensive array of exhibitors who are offering a multitude of products and services from yachts to boating goods to insurance and boat financing at the event. There will also be extensive on-land displays with participating exhibitors presenting wonderful products including smaller watercraft, pontoons and personal watercraft along with boating and marine related accessories
Come visit us during the boat show and meander along the docks and appreciate a beautiful summer day while enjoying the In-Water Boat Show at Bay Harbor.
Information about this was obtained from various sources and is thought to be correct. We strongly recommend that you contact the show producer to confirm this information. See the bottom of this page for informaiton on how to contact the show producers.