Algonac Antique and Classic Boat Show**CANCELLED**
Show Location:
Algonac Harbour Club Marina, Algonac, Michigan
Show Dates:
Friday, June 26, 2020 through
Sunday, June 28, 2020
Show Times:
Show dates and hours are subject to change.
Schedule:
Several events require a WRISTBAND to be worn to participate. Wristbands will be included in your registration package. Please check in at the registration tent to pick up your registration package prior to your scheduled event.

FRIDAY EVENTS
Registration will be open from 8:00 A.M. - 10:00 A.M. and 4:00 P.M. - 6:00 P.M.
Lunch Cruise (Wristband Required Event)
Captain's Meeting begins at 10:00 A.M. to review route information. Final destination will be the Idle Hour Yacht Club on Harsens Island with a complementary lunch for those with wristbands. Cash bar for beverages.
BOAT SHOW
Marina will be open for public viewing of boats from 4:00 P.M. - 7:00 P.M.
Welcome Party (Wristband Required Event)
Show participants are invited to gather at 6:30 P.M. in the Chris Craft plant building.

SATURDAY EVENTS
Registration will be open from 8:00 A.M. - 11:00 A.M.
Coffee and Donuts
Available beginning at 8:00 A.M. while supplies last adjacent to the registration tent..
BOAT SHOW
9:00 A.M. - 4:00 P.M. with awards at 3:30 P.M. under the water tower. Free cruiser tours and free boat rides available. (Volunteers Needed)
Free Shuttle
10:00 A.M. - 3:00 P.M. Continuous loop around Algonac with stops at local museums and restaurants. Hop on and off at any or all stops.
Informal Boat Cruise
4:00 P.M. Fire up your boats and join others for an informal cruise up the St. Clair River to the state park and back. Weather Permitting.

SUNDAY EVENTS
Old Club Brunch (Wristband Required Event)
Boats going to the Old Club should plan to depart the Harbour Club at 8:30 A.M. Those going by land should plan to arrive at the Old Club by 9:30 A.M. Brunch will be served at 10:00 A.M. Guest speaker will follow brunch. Seating is limited. No denim or collarless shirts are allowed (Old Club policy). Map available at registration for those going by car.
Algonac Area MarineSource Members: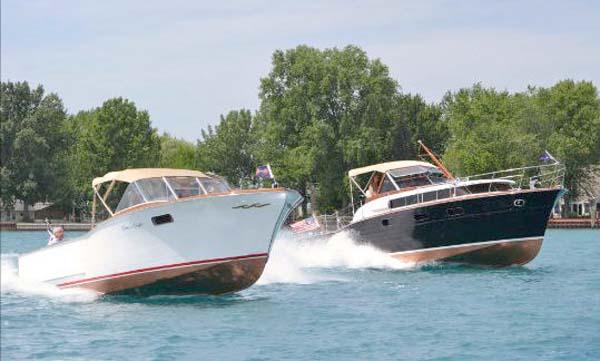 Information about this was obtained from various sources and is thought to be correct. We strongly recommend that you contact the show producer to confirm this information. See the bottom of this page for informaiton on how to contact the show producers.